Ennen olin pakolainen
I used to be a refugee
Art Direction and Book Design.

Design for a book that tells the story of former asylum seekers now settled in Finland. Fourty-one portraits were set alongside personally written accounts of the refugees' experiences. The book comes in five different covers. All proceeds from sales of the book were donated toward refugee integration in Finland.
The book won a silver award in the Finnish design competition
Vuoden huiput
.
(2016)

–

Photos by Anna Autio. Texts by Aadan Ibrahim, Abdifatah Ibrahim, Agnesa Dumani, Ahmed Alalousi, Ahmed Ibrahim, Airin Bahmani, Arbër Mehmeti, Elvi Arminen, Ermin Zec, Fatbardhe Hetemaj, Fuad Janei, Habiba Ali, Halla Al-Shahmani, Hozan Omar, Javiera Marchant Aedo, Khalid Iddriss, Kieng Heikkilä, Kristina Nrs, Lajani Rajeswaran, Lan Le-Gävert, Leila Shakari, Najwan Atwan, Raheem Al-Shahmani, Rajkumar Sabanadesan, Rita Kostama, Samira Azarqaderi, Sarkan Saber, Serveh Khalili, Sewan Aziz, Shirin Oula, Siva Parlar, Sohrab Rahimi, Soroush Mehrabkhani, Theresa Ngouthi, Veronica Kalhori, Wynn Há, Ye Yint Thet Zwe, Yousif Haddad, Zabi Yawari, Zarmina Razai and Zilan Deniz. Published by Kustantamo S&S.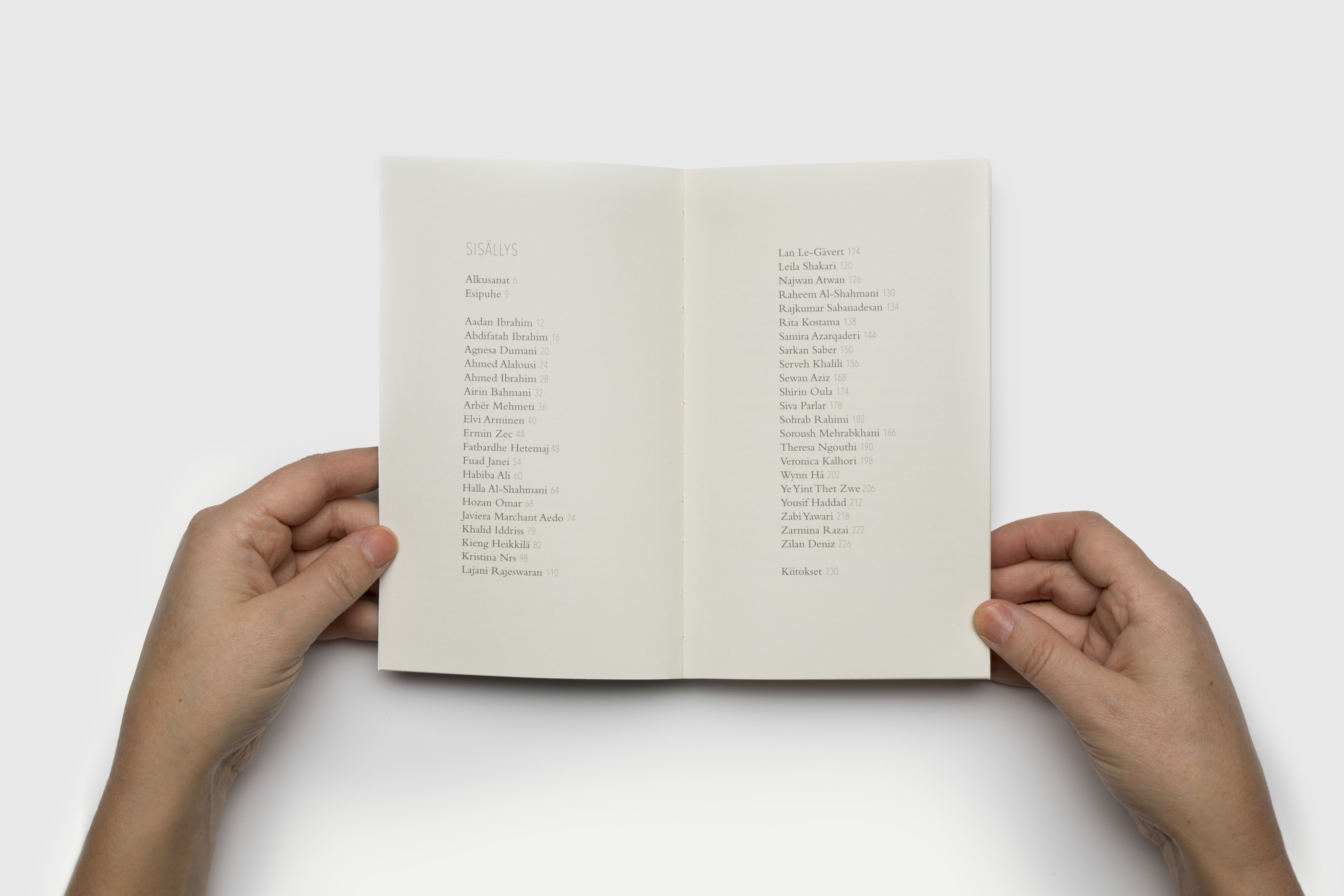 © Anna-Mari Tenhunen 2022